---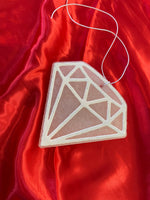 Love spell scent
Life span: 4-12 weeks out of the bag. Up to 1 year+ in original packaging.
Melting point: 161 degrees. Freshies can melt if not properly taken care of.
DO NOT: Place between windshield and sun shade. DO NOT Place on dash or any surface as oils may stain. DO NOT Eat. Please keep away from pets and children. DO NOT Place on a candle warmer
Where to use: cars, lockers, closets, office, anywhere you can hang it, really!